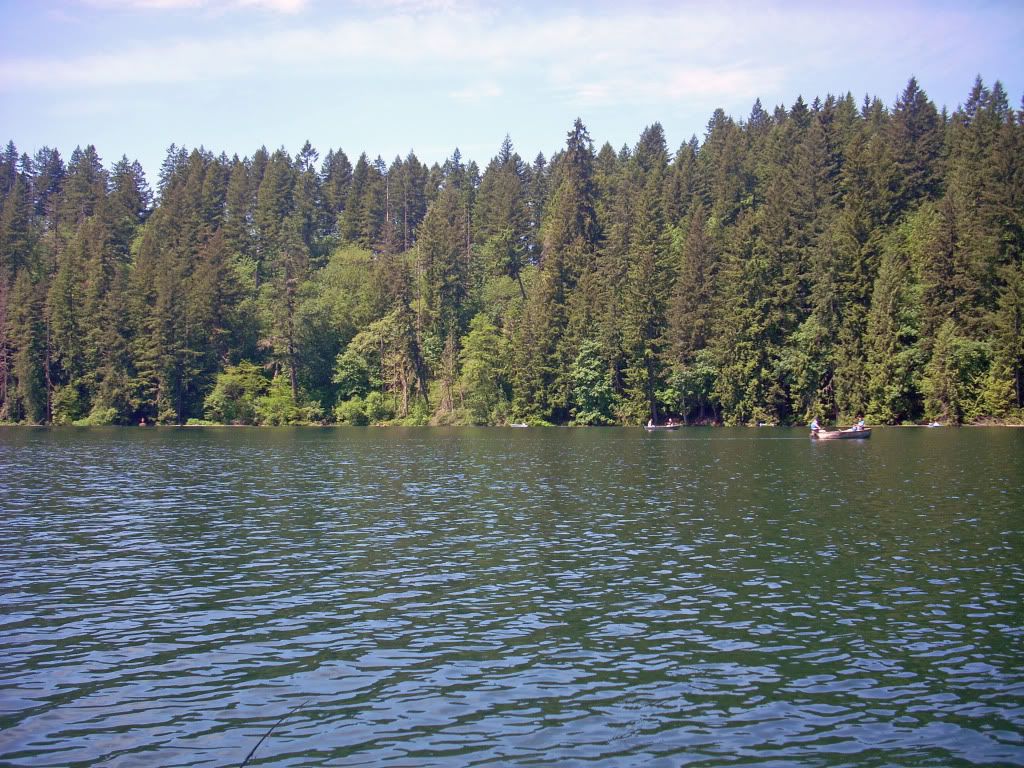 Battleground Lake is a pretty little lake in the "town" of Battleground just a few miles northeast of Vancouver. Every winter for some reason, the department of fish and wildlife dumps hundreds of ten pound steelhead into it. I didn't honestly expect to find any of them still in there but I at least wanted to get a look at the place. The place was CRAZY with people. We fished for a while anyway and talked to people but after catching only some small fish we decided to pack up and head north.
The Kalama river is a favorite of many people -- its accessible, wadeable and often has good runs of kings, silvers and steelhead.
We didn't catch any fish or even see any. So I got some pictures of Amy fly fishing. She loves to fish the moving water. The lady can throw a line, that's for sure.
On the way home we saw a traffic accident two cars in front of us. Someone had hit their brakes and a minivan flipped up in the air and came down on its side. No one was hurt. I barked at Amy "Stay in the truck!" Strangely I had a had a vision about saying that earlier in the trip; such a manly thing to yell. I approached the minivan, inspecting the things strewn out the broken windows. Thank Goodness none of them were children. I asked the woman inside if she was alone and she said yes, no kids. I asked her if she was okay, she said yes. I turned around and a woman was running toward me "I'm a nurse!" she said. A man was right behind her "I'm an EMT!" he said. "Okay! I'm outta here!" I have no problem turning the situation over to professionals. When we left they had gotten the woman out of the car and she was looking back toward us. She seemed okay. That's the important thing.