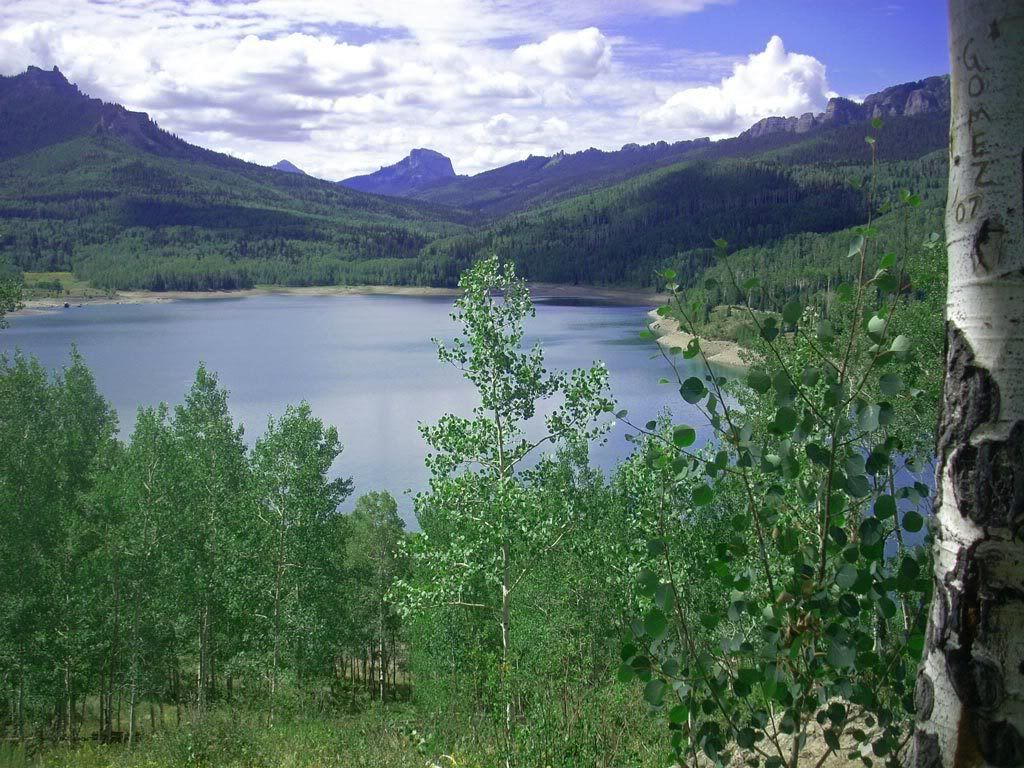 >
My kid brother had a beautiful wedding in Colorado. My father and I arranged to have the prior week off of work together so we could hang out and fish. Also, my nephew John Foster IV came along. Its HOT in late July in South Western Colorado -- mid-nineties every day, so we fished the high country in my 12' jon boat.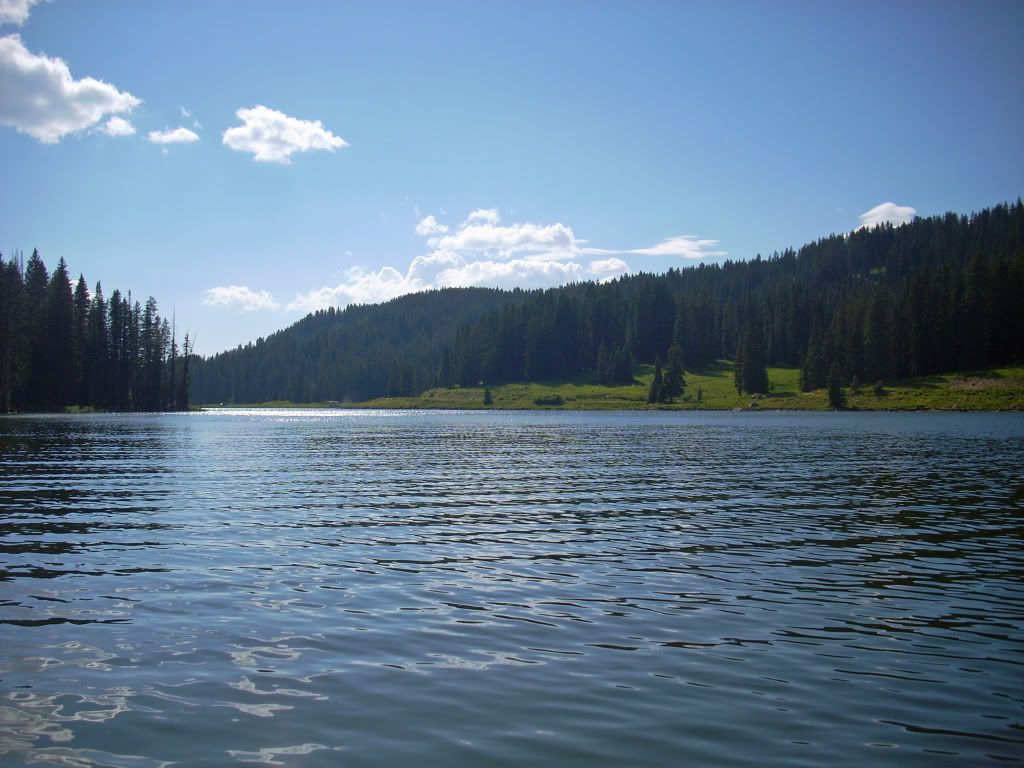 >
I took my dad up to the Grand Mesa which is the biggest, highest mesa in the world, and it just so happens to be littered with beautiful high meadow lakes and kah-jillions of trout. Dad and I had a FANTASTIC time fishing Eggleston Lake.
We found ourselves at the end of the long, skinny lake; all the fish were crowded down there and so were a bunch of heifers. Dad made lo'ing sounds at them and they not only responded they crowded around the shore as if he were some kind of Cow Messiah, calling them to the water.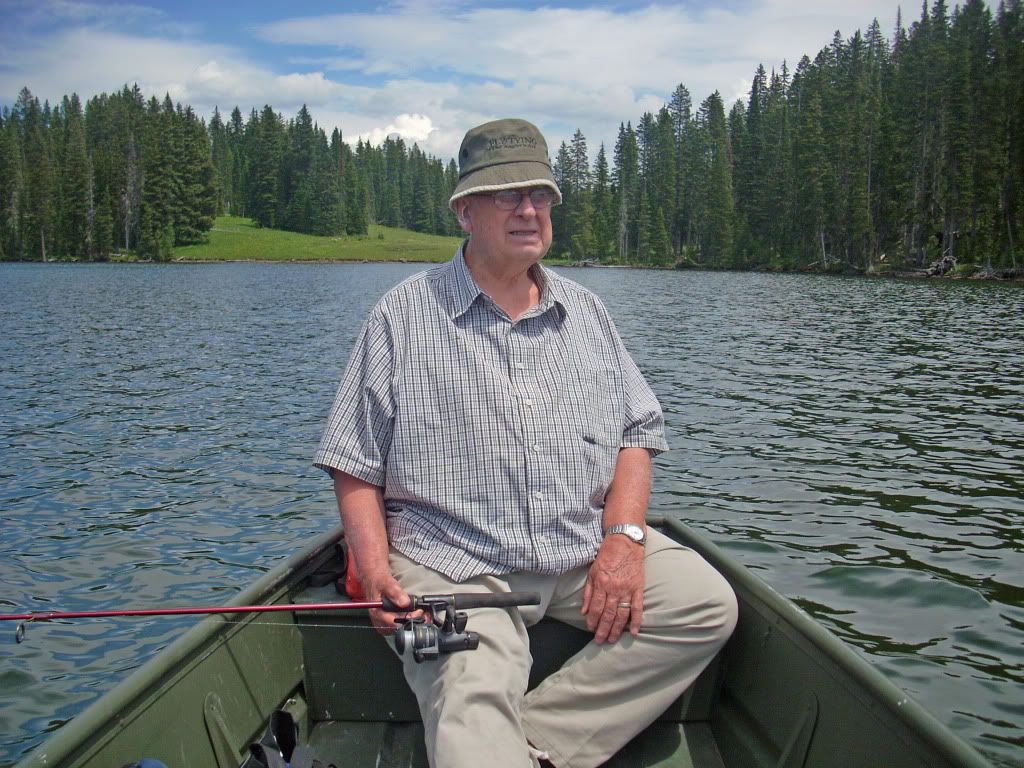 >
Seems like Dad caught a fish every five minutes, fishing Berkeley Power Nuggets under a bobber. He and I agree that bobber fishing is just downright fun. The trout were very cooperative and we eventually left Eggleston with a nice stringer. We moved up the road to Vela Reservoir, where we were stymied -- it seemed as if there were no fish there at all. We kept on fishing since it was too late in the day to move to another place. As the sun went down the lake came alive; soon it was literally boiling with fish. We had to laugh at our earlier assumption that there were no fish at all.
Fishing like that with my Dad is something I haven't done in probably 30 years. It was so fun. We should have been doing that this whole time, but you know how it is. We agreed that we should fish together every chance we get now, and I hope we get a lot more chances!
My Nephew John and I fished the Silver Jack Reservoir, which I think is closer to Telluride rather than Montrose. Also a beautiful coliseum of fishing. The whole reservoir was deserted when we arrived -- we had it all to ourselves. I think this might have been one of the first times that John and I had hung out alone together. It was nice getting to know each other better. And we brought home a nice stringer for my mom.
After leaving the Silver Jack Res, John and I decided to drive down a rough side rode looking for "Rowdy Lake". As we approached the lake a herd of cows started running straight toward us. Not knowing anything about cows I decided to get us out of there so I turned us around and we started flying back up the road, trying to stay ahead of the herd. The cows were FAST and the road was hella bumpy. In a near-hallucinatory scene that I hope I never forget: the truck stereo was blasting 50-cent, a herd of cows was running right next to the us, seemingly in time with the rhythm, the sun blazed on the yellow grass and the sky was so blue at 10,000 feet, things were flying all around the cab, and I looked in the rear view mirror just in time to see the cooler, which was in the boat, bounce open and ejaculate dead fish and bloody but shiny blue ice up into the air. I stopped the truck as the herd curved away ahead of us. I was able to scoop up 5 of the 6 fish and put them back in the cooler -- the 6th fish is still on that dirt road somewhere.
Several times we got a line caught in the motor and I'd have to take it off to untangle it. Of course this is also the time when my rod would catch a fish! This is the only fishing picture of me on the trip.

Fishing the Grand Mesa. With my father. Fishing the Silver Jack. With my nephew. Precious times.