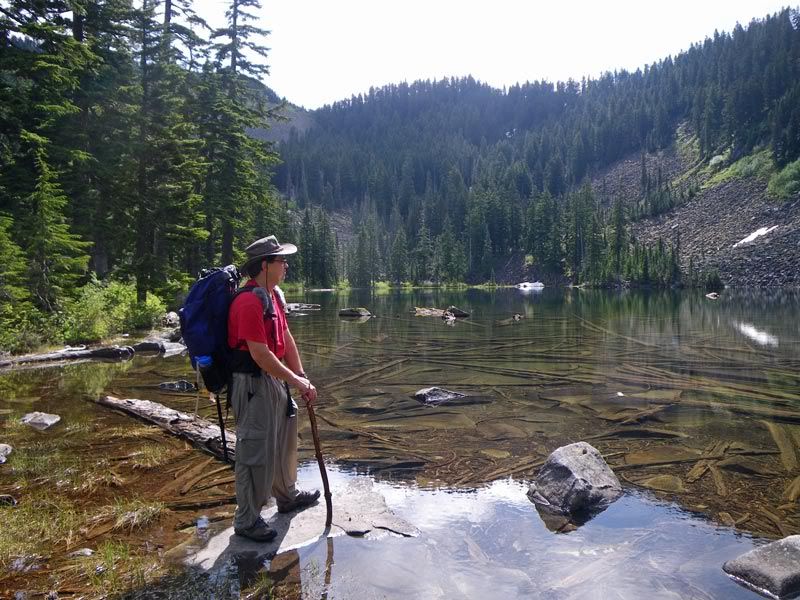 Me, wet, at the Secret Lake, photo by Rex Takasugi
Took Thursday off to guide my friend, Rex Takasugi, to the Secret Lake that I had such a good time at last summer. We met up at the North Bend Bar and Grill for a yummy, heavy breakfast before driving up near a mountain pass to hike to the lake. Rex hiked in his waders with his 15lb Fish Cat 4 strapped to his back, looking for all the world like a giant, 8' tall beetle. To his credit, we made great time on the hike; from the cars to the lake in only 75 minutes. My new GPS says the elevation gain is 1000 feet, which is more than I thought it was.
As for the fishing; Rex's amazingly detailed fishing report describes it better than I will, but let me summarize for you. We fished for six hours, but really only caught fish in a 30 minute window when suddenly all the fish in the lake went wild. Rex netted three fish, though he had hooked many more. All his rainbows in the 13-16" range. Above is a beautiful picture of one of them.
I caught two fish, about 17" each, on a mayfly imitation that I tie with just peacock herl and grizzly hackle (when I got home I tied 6 more of them!). Each fish was dark with spawning colors. This was my second trip with my Sevylor Trail Boat and I accidentally "popped it" by beaching it on some sharp rocks. My friend Vlad will show me how to repair it I hope!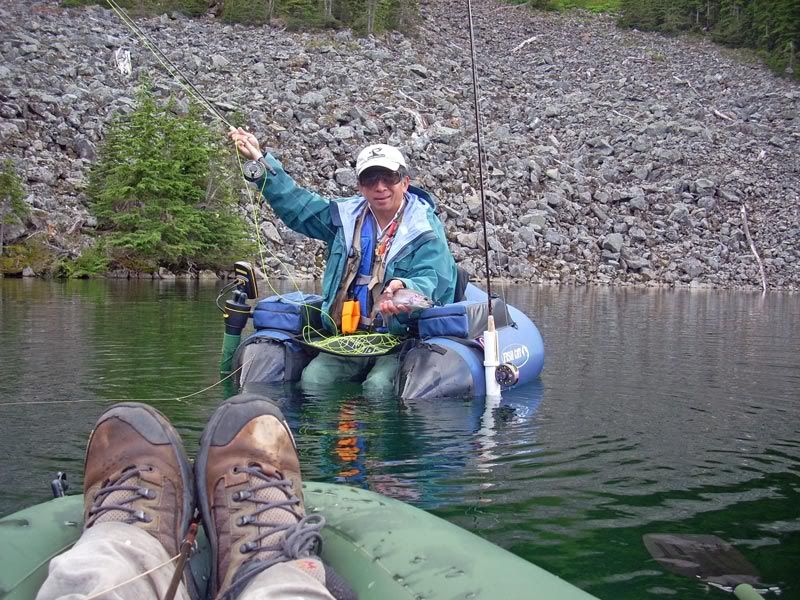 Rex Takasugi
To me, the Secret Lake was nice, but the day was really about Fishing with Rex. The day is coming when his name will jump to your mind when you think "modern PNW fly-fishing masters." I am lucky to have fished with him a few times. He is a graceful, delightful gentleman.