I swear this is coincidence, but all three of us have new gear to work with next time we go fishing.

Once, when I was visiting my parents in Montrose, Colorado, I met a friend of theirs who worked at Ross Reels (which is headquartered there). He had with him the 25th anniversary edition of the Ross Evolution reel, and I fell in love with it. I vowed to get one someday, and that day finally came. I'm the proud owner of a slate-blue Ross Evolution reel. Now I just need a slate blue spare spool and a couple of new lines and I'm good to go. I think I'll use it for all my alpine lake fishing next year.

Casey did such a great job of casting on our last trip (see
here
) that I figured he deserves his OWN TRUE rod. Ross makes one designed for young people, called the
Ross Journey Youth
rod. Its a 7'6" blue (or pink) 4-piece, 4 weight rod at a reasonable price. My friend
Marc Duhamel
graciously donated a lightweight reel (and spare spool) to go with it. So now Casey is all set up and ready to go next spring.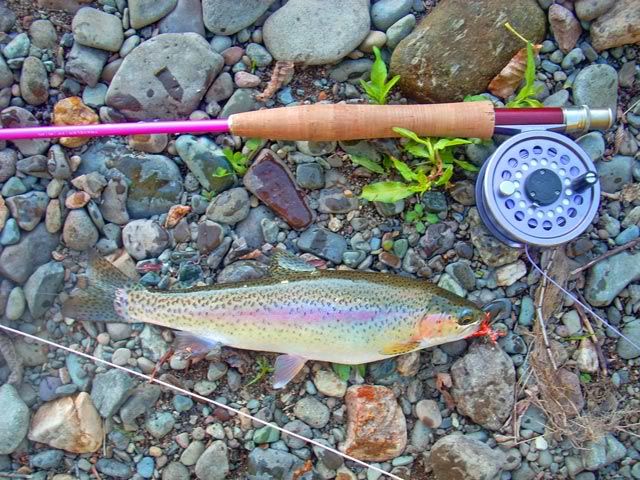 Lastly, remember Amy's famous bright Pink Elkhorn rod? The one that catches all the big fish? It broke recently -- one of the feet came unglued at the base of a section. I sent the rod back to Elkhorn for repair. When the received it they called me and explained that they were going to have trouble matching the section since she had one of the early versions of that rod. So we worked out a deal to get a brand new Pink Lady for a substantial discount. It came in the mail a few days later. The new rod has a better reel seat and a hook holder. Hopefully this rod will be just as lucky as the previous one (rest its soul).

It might be a while before we go fishing again - we are not big steel-headers and that's the only game in town right now. But when we do go again, we can all get that new gear jinx out of the way at the same time!