Redemption. That's what this hike was about. Countless times I have promised Amy that a hike would be easy or short or flat only to have the hike turn out to be long, steep or brutal. When I asked her to go with Casey and I on Sunday on a hike to a lake she refused. I promised that this one would be easy and she still refused. I told her that I had changed and this one would be easy! She reluctantly agreed to try again.
The trail to the Twin Lakes (the ones south of the Pass) satisfies all these requirements. It's close: 30 minutes from our house. It's easy: 1 mile to the lower lake with only about 200 feet elevation gain. Its pretty. The Lake has fish.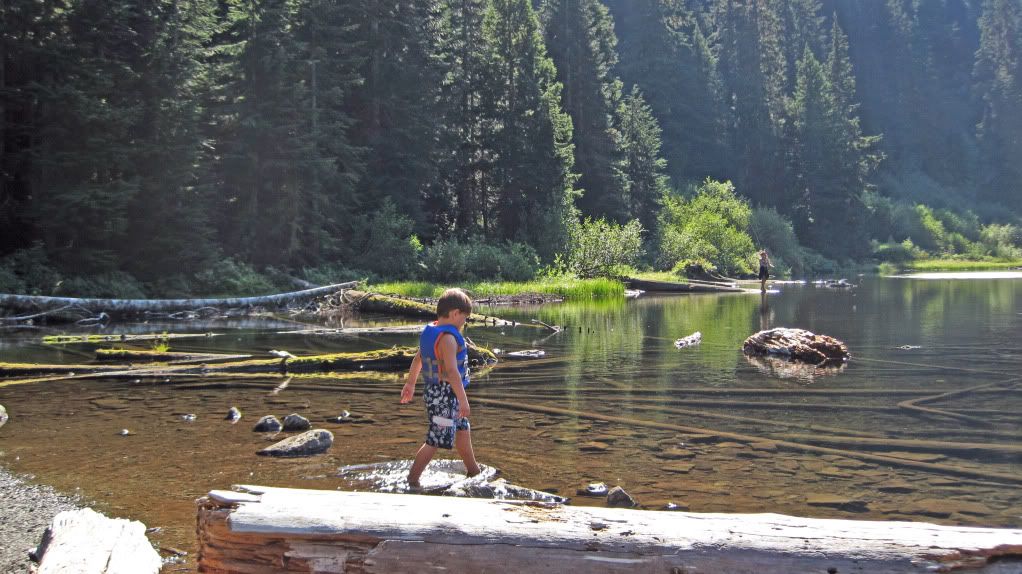 After the short, easy hike, Amy brought out some apples, cheese and sandwiches for a picnic. I prepared the fishing gear. In this picture, Casey is hunting down frog egg sacks (which were abundant) and Amy is fishing in the background.
Speaking of egg sacks, check out this one that Casey found. I told him not to play with them but he said he couldn't help it.
Amy tried out the trail boat and did quite well at it. The lady can throw a line, even sitting down only an inch above the water. Casey and I spotted some fish and Amy paddled over and cast a brown hare's ear to the vicinity. She was talking to us about something and she "oh! oh!" and she had the fish on. It was surprisingly big cutthroat for such a small, shallow lake.
While Amy kept fishing, Casey and I explored the forest around the lake. There are three nice campsites at the lake, though it probably gets pretty busy during the peak season, being on the Pacific Crest Trail and all. We came across this little log cabin nearby. A sign says private property.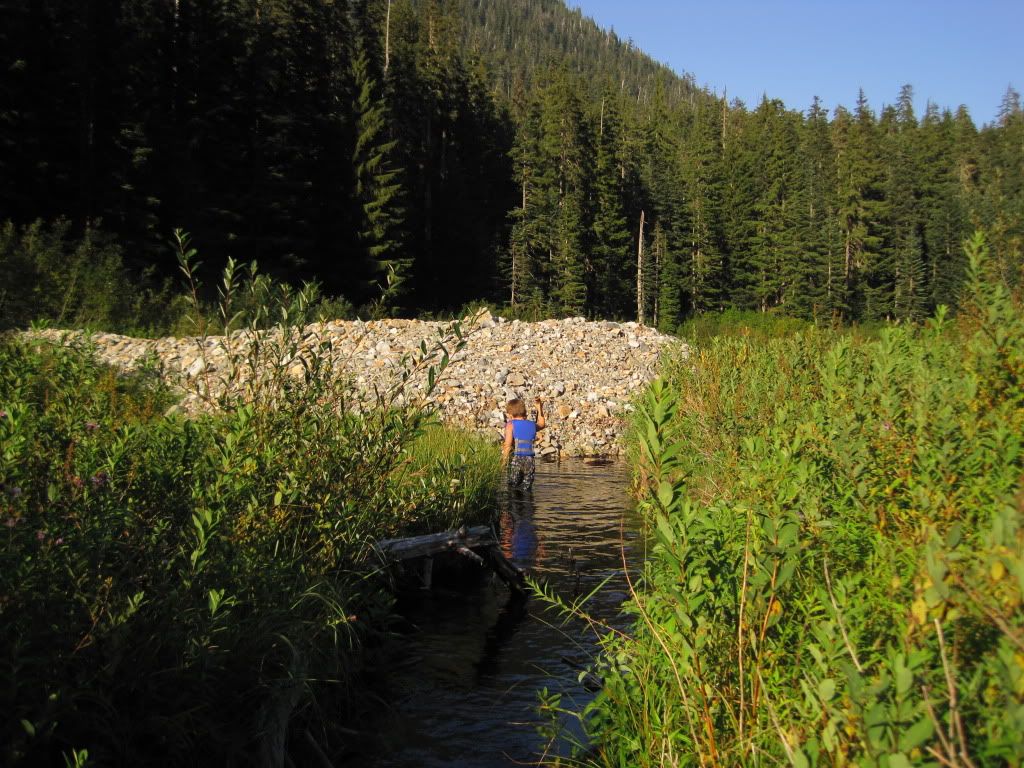 We crossed creeks on fallen logs and practiced bushwacking some more, coming back to the lake by a different route. In the picture above, check out the WALL OF GRAVEL that this winter's floods had pushed a quarter mile down to the lake.
When we got home we all felt like we'd been on a much longer, harder adventure. Nice way to spend a fall afternoon.