Blue Lake (Loomis)
This was the third annual "Marital Harmony" fishing trip to the beautiful Okanogan region of our great state. We use this time to get away, just the two of us, for four days of fishing and re-connecting with each other. It is a very special time for the two of us in an area that we both think is incredibly beautiful. Also, there are big fish there!
Fishing highlights of the trip include:
Rocky Ford Creek - 3 big trout for David
Blue Lake (south of Loomis) - 5 trout for Amy, 4 for David
Blue Lake (south of Oroville) - 1 trout for each of us
Conconully Lake - 5 trout for David, 3 for Amy
The Yakima River in Easton - 3 trout for David, 2 for Amy
David:
14 rainbows, 1 brown, 1 Lahontan cutthroat
Amy:
10 rainbows, 1 Lahontan cutthroat Ha, ha, I win. Actually it wasn't really like that (yes it was).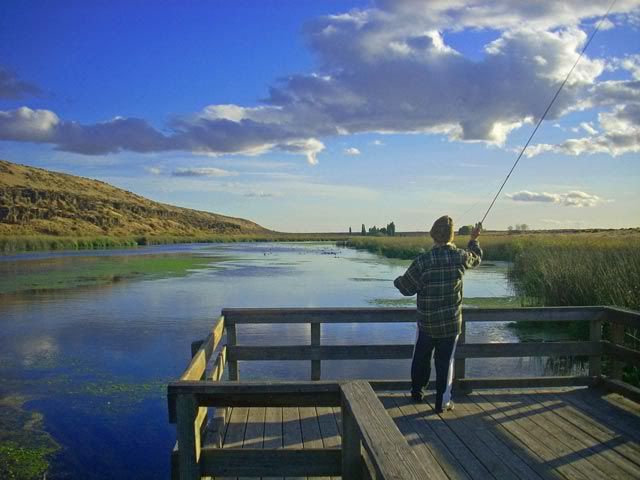 Not wanting to do the 6-hour drive all in one go, on day one we stopped near Ephrata to fish Rocky Ford Creek. Even though it was a Tuesday, there were 15 guys there! They were the Vancouver (WA) Fly Fishing club on an outing to Dry Falls but the wind had forced them off the water and over to Rocky Ford. They were monopolizing the downstream fishing areas but Amy and I had to upper area all to ourselves.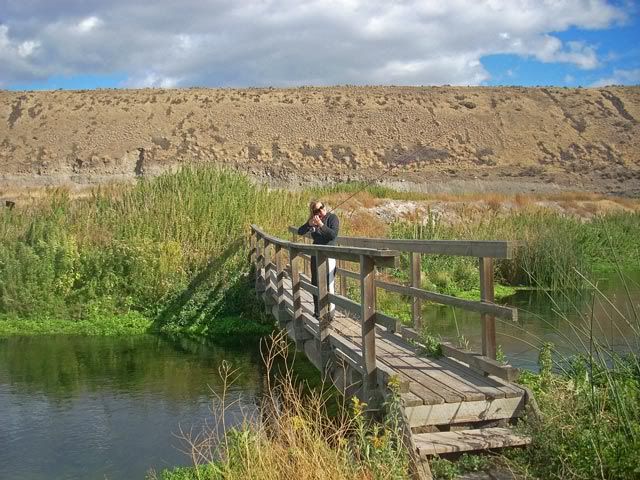 Fishing was generally difficult and slow. Sadly, Amy didn't hook anything except her own hair.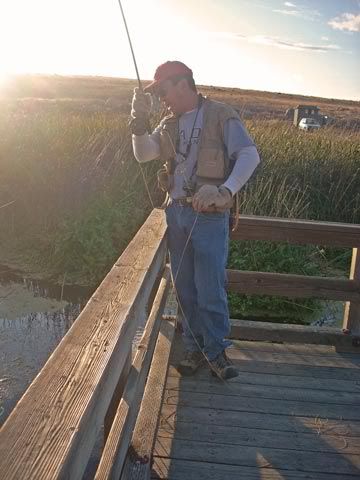 I caught 3 fish, including one that was 20" -- your typical Rocky Ford chubby trout, but I caught them on flies that you wouldn't think would work there: San Juan Worm, a large Royal Wulff and an Adams.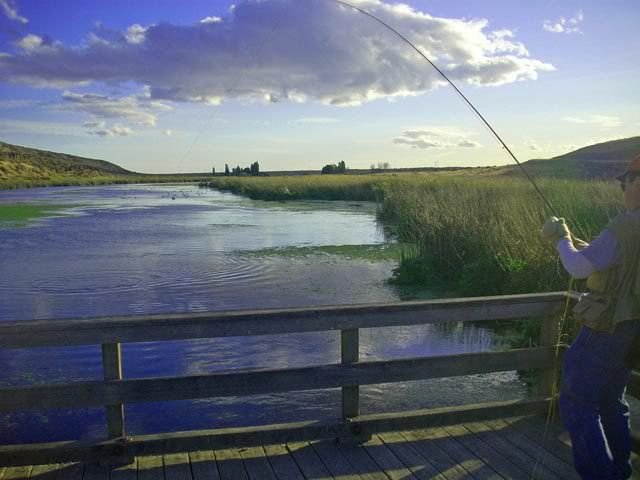 After rocking the Ford, we drove three long hours north to the town of Omak, where we stayed at the Omak Inn and had TV dinners from the Wal-Mart. Now THAT'S livin' large! Actually the Omak Inn was pretty good, I'd stay there again.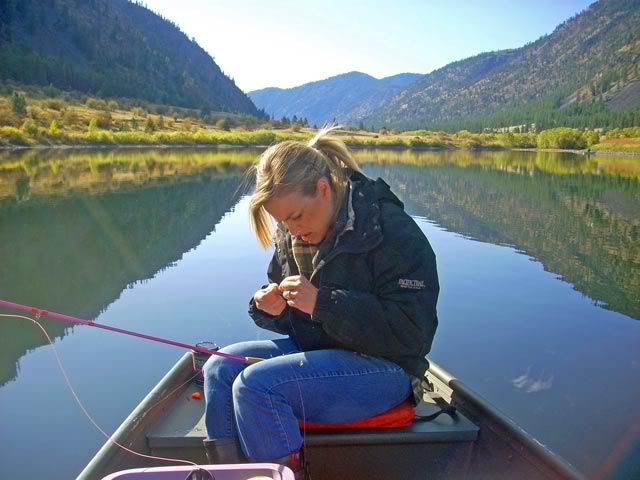 Tying on at Blue Lake
There are two lakes named "Blue" in the Okanogan area. We visited them both the next day. We arrived at the one south of the town of Loomis just as the sun was breaking over the ridge. It was cold but still and there were fish rising all over.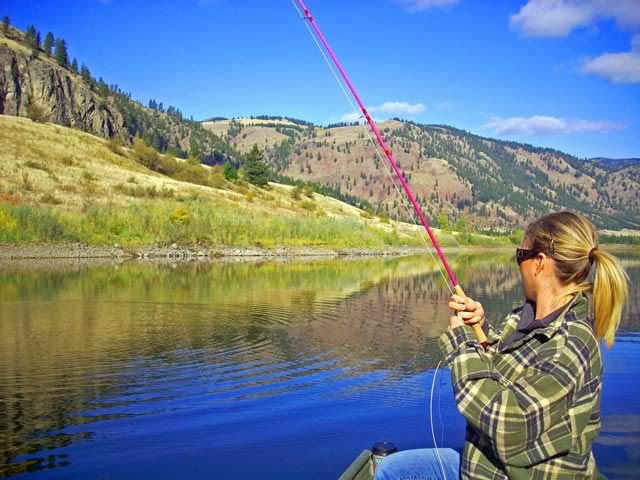 We fished the lake for the next four hours, regularly hooking up with the eager rainbows. The surprise of the day came when I hooked and caught this nice brown trout. I didn't even know that there WERE brown trout in this lake!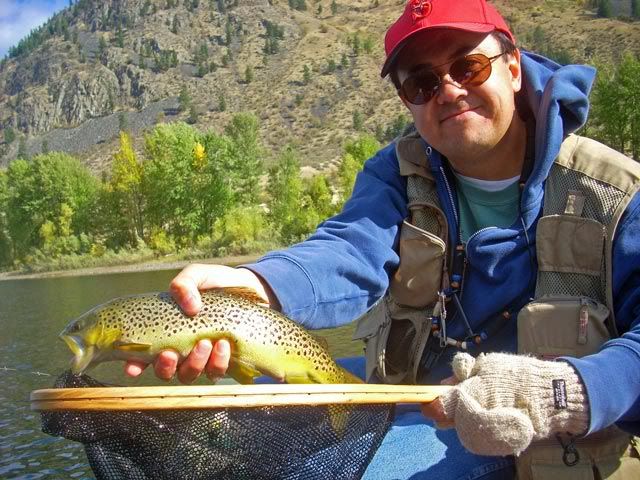 Surprise!Brown Trout from Blue Lake
In the afternoon we moved operations to the OTHER blue lake, where fishing was slow until we figured out that we needed to fish DEEP for the lahontans. When we got that figured out we were each able to get one fish before it became too cold to stay out any longer. Here's Amy's fish.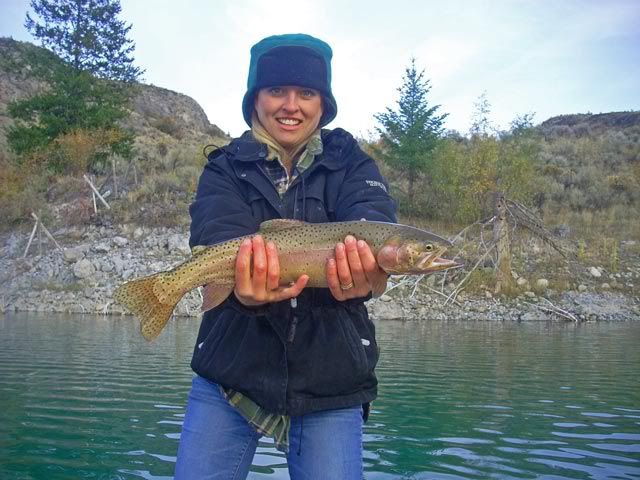 The Biggest Fish of the Trip
The next day we awoke to a fierce wind, so we headed up to the old resort town of Conconully. At Conconully Lake Resort there is a funny "Party Pooper" box -- they put it on skis and it won some crazy awards or something. Here's a picture.

Party Pooper Portapotty
Even though Conconully lake was somewhat protected by steep canyon walls it was still quite windy when we launched onto the lake. We found a quiet bay and caught several fish like this one. For every fish we caught we probably had three more strikes. That place is LOUSY with fish. I would love to go back there when its not so cold and windy!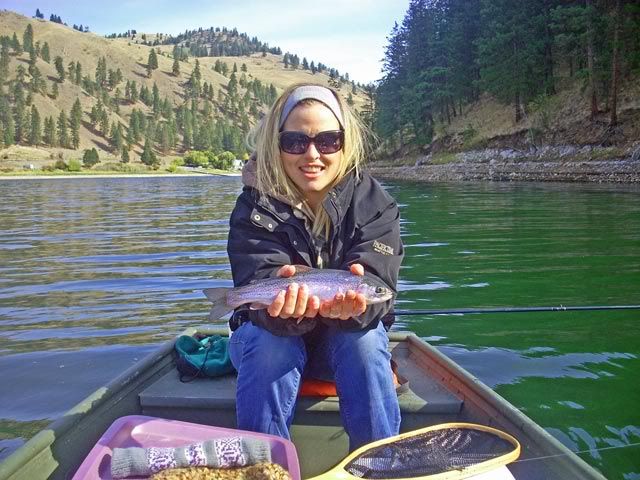 Conconully Lake
That afternoon we went back to the Blue Lake south of Loomis for another try at the fish there. We got skunked but you know what? We had so much fun trying to catch the rising fish and just being with each other that it was the best part of the trip. It was all about reconnecting and it was so nice. Best time I've ever had getting skunked. Afterward we started the long drive south, determined to get at least part of it over with. We ended up getting as far south as Chelan where we stayed at the Apple Inn, which was pretty good actually!

Dry Falls Overlook
On the last day it was windy everywhere. We stopped at Dry Falls and waited for a calm period but didn't get one so we moved on. Eventually we ended up exploring some new water on the Yakima River on the way home where Amy caught some fish with an october Caddis on the top. Here's a picture she took; she said she always wanted to take a picture like this so here it is.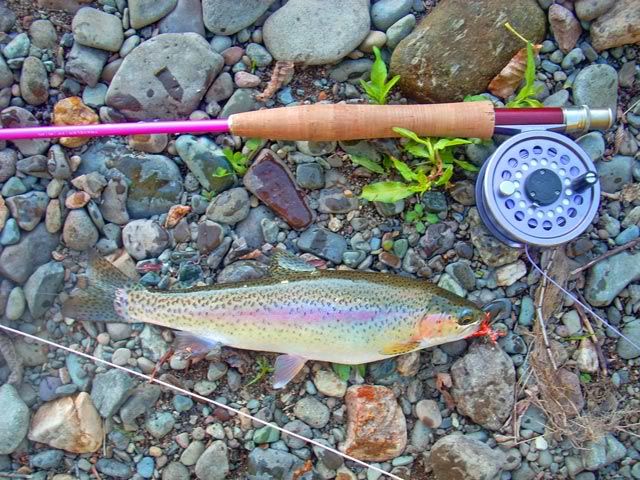 Amy's Yakima Rainbow
So for the four days, the fishing was good, but the marital maintenance was the main thing. We are good together again.