There's this Secret Lake about an hour from my house. Its not listed in any of the major guidebooks, probably because it resides just outside the Alpine Lake Wilderness. One tiny regional guide mentions it but has little to say other than "watch out for Devil's Club" and "produces small rainbows." The trail that leads to the Secret Lake is a fisherman's trail, meaning that there are no fancy switchbacks and the trail is basically straight up. I'd fished this lake once before a few years ago and caught a couple of those small rainbows.

Valley View
I woke up this morning with an itch to fish the Secret Lake. Actually the itch is more like a compulsion this time of year: its almost as if I didn't WANT to go but I felt that I HAD to go. So I grimly loaded my gear in the car and then procrastinated for a long time. I checked email, drank coffee, sent out some letters and packages and then finally hit the road for the Secret Lake. This time I was going to hike to it in my waders, and packing a float tube. With gear and lunch my pack was about 20 pounds. About half way up the trail I ran into a couple of guys who were shooting off a handgun. In fact, when I turned the corner on them the guy with the gun was pointing it my way; I politely asked him to point it somewhere else. They were nice enough campers who had been camped in the valley for a couple of days. They said there had been no one at the lake for days and they themselves were just leaving.

Looking across the Lake
I once met the Slugman on a trail somewhere. He called himself that because he said he was the slowest hiker in Washington. Well I think I can give him a run for his money: It took me a leisurely 90 minutes to ascend to the lake. The trail doesn't mess around, it goes straight up and gets steeper and steeper as it goes. Wearing waders turned out to be a good thing because there WAS a lot of devil's club up there (the book was right?).
When I finally dropped my pack at the side of the small,sunlit, secret lake, I realized I was the happiest that I had felt in months, if not years. I felt like the luckiest guy within 20 miles in any direction. There were fish rising all over the lake and I was armed with all my best fishing gear. I was the only man in the whole upper mountain valley.

Half of the Secret Lake
80 breaths inflated the float tube. I kicked around the 5 acre lake, expecting to hook up with a multitude of small rainbows, but I got nothing. Exactly nothing. Not even a tap on my line. I saw fish rising here and there and there were bugs all over the place. Why do dragon flies seem to get larger the higher the elevation? These ones seemed like bats they were so big. Finally I had kicked around the whole lake and was right back where I started with nothing to show: it was puzzling. I switched to a floating line and put on a pheasant tail which had worked for me here before. I cast it toward shore (right where I had launched from) and was rewarded with a tug. And then some head-shakes. What? Small fish don't make head-shakes. Well it wasn't a small fish. It turned out to be a 15" rainbow with big shoulders. Clearly this bad boy has been eating well and clearly that regional guide was wrong about the lake producing only "small rainbows."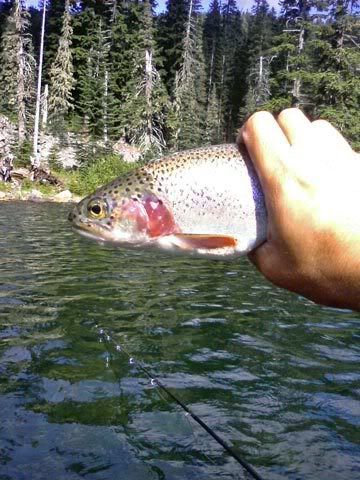 Fat Trout
I was incredulous, I had no idea that the little secret lake, which looked so barren, could support a fat 15" trout. It must be the dragonfly diet. A few minutes later and I was fishing in very shallow water -- maybe 2 feet deep at the most when I got some tugs. Aha, I thought, here comes a small fish. Suddenly the water in front of me exploded and another big trout flew skyward with my fly in its mouth. I could scarely believe it but apparently there's enough food for two 15" rainbows. I almost quit fishing right then because my fishing lust was satisfied and I was so cold.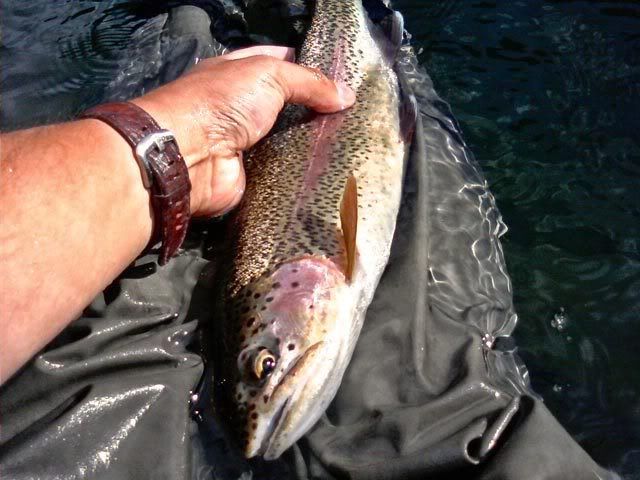 The Biggest One of Three
But I caught one more. This one measured at exactly 16". He put up a great fight, jumping a few times and going deep a few times and then rolling over so I could get the fly out of his mouth. He was the most beautiful trout I think I'd ever seen. By now the sun had gone behind the high valley wall and my teeth were literally chattering I was so chilly. As I packed up my gear, the fish continued rishing all around the lake. Who knows, maybe they are all 15 and 16" fish in that lake! I made it back down to my car in 35 minutes and was back home an hour later.
It just could not have gone any better today, really.