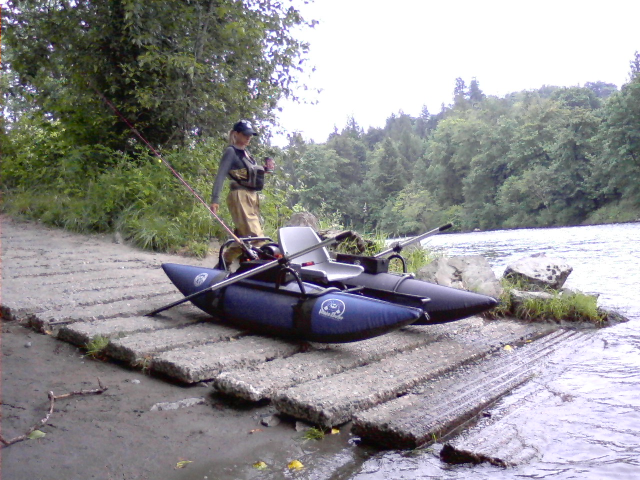 I'd been wanting to do a husband-and-wife pontoon float down the Snoqualmie for years. Yesterday was the day it happened. But not the way we'd hoped.
I borrowed a pontoon boat from my friend Brent Comer. I stopped at Creekside and bought a Scotty Rod holder for it. I arranged for a baby-sitter to come at 7am. Our plan was to float until noon from Plum's Landing to Fall City. I spent the entire previous evening getting everything ready. I was so excited about it I could barely sleep.
An overcast, chilly morning finally came around and when our baby-sitter arrived, Amy and I drove my Cobalt down to Fall City. She followed in her CRV and then we drove back up to Plum's Landing where we launched. The water was A LOT higher than I had anticipated and was moving WAY faster. I was in Brent's pontoon and I was tightening the oarlock when it just fell apart in my hand and a crucial wing nut went "bloop" into the river. Apparently I had been loosening it!
Amy almost got stuck sideways against some rocks in fast current. It made her laugh but it scared the sh1t out of me. We had PFDs but like idiots weren't wearing them. Then she got her flyline caught around her oar and couldn't row. I couldn't row either with just one oar.
We were finally able to beach ourselves against the far bank about a mile down the river. Its a good thing, too, because one of her pontoons was deflating. That was the last draw - I decided that we were not proceeding. There was an older gentleman who was fishing nearby and when he was done I asked him if he would give me a lift down to Fall City. He was nice. He's retired and just spends all his time fishing all over the northwest. He was on his way to the Dean river next week. I told him that I wished I could do that and he said something like "yeah all you young guys do, but you probably have to work huh. This is the one benefit of getting old."
Amazingly, we fit BOTH pontoon boats into my red car. I dropped Amy off at her car and she fished the Plums landing area for several hours more while I went home and returned the baby sitter.
And, of course, we didn't catch or hook or even see any Steelhead.
I'm hoping to try this again when a) the water is lower and slower and b) when I replace my pontoon.